Yogi Bhajan  – Happy Birthday
26/8/1929 to 6/10/2004
I've never been one to revere one person as an all knowing, perfect being – a guru to be totally devoted to, to surrender to and serve.  It's not in my mentality.  But I also see the value in acknowledging great teachers, sages, saints and leaders, as they help me to recognise my potential within this life and they inspire me to elevate my consciousness and actions so to that I may be able to serve others (& myself) and find peace and happiness.
My relationship to one of my great teachers, Yogi Bhajan, whom I have never met, has been an interesting journey for me.  Yogi Bhajan or Siri Singh Sahib took the daring step of sharing his Kundalini Yoga tradition to the western world in the late 60s.  He recognised that westerners, namely the Americans at the time, really needed the technology of Kundalini Yoga.  He saw that the hippy movement, where people wanted to shift the consciousness and paradigm of the times, would benefit from a lifestyle and yogic practice that could lead them to the highs and shifts they desired but achieved through harnessing and directing their own energy with Kundalini Yoga.  And when I was first introduced to Kundalini Yoga this is what I was drawn to too.
I loved that this simple practice changed my energy, created inner shifts and healed old wounds so quickly.  It was exactly what I needed, and I could do it myself.  So, I became a teacher.  Now as I said earlier, revering one man wasn't an easy idea to me and I concluded that I didn't need to either.  The reason I fell in love with Kundalini Yoga was because of the practice.  So, to begin with, my favourite Yogi Bhajan quote was 'Don't love me, love my teachings'.
I have been practicing Kundalini Yoga for 17 years now and over time my acknowledgement and gratitude for Yogi Bhajan has grown.  He is my teacher.  In continuing my studies and practice of Kundalini Yoga I have realised his calibre and his devotion to serving humanity.  I have at my fingertips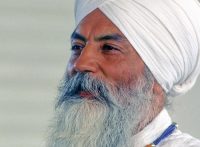 hours and hours of lectures to learn from, thousands of kriyas and meditations that can lead us to excel and be healthy, as well as books, live recordings, music, trainings and quotes to be inspired by and to grow by.  There's more than a lifetime of resources there for me, and you and for everyone.  No matter what someone is experiencing in life there is something there for them.  And he shared this knowledge, wisdom, lifestyle, altitude, lineage in a relatively short amount of time.
Now I would have to say that this great teacher helped to elevate me; helped and continues to help me to find ME and helped me understand what the power of WE is.  So, I can easily say that I feel a great love and devotion for Yogi Bhajan.  I feel so much gratitude for what he stood for and what he did.  He is vast and he is flawed and he has left an inspiring legacy.  I'm sure he would respond by saying 'Become ten times greater than me', 'Travel light, Live light, Spread the light, Be the light'.  And this is what I aspire to.
Thank you, Yogi Ji and Happy Birth-day.
Siri Bhagvati  / Billie Atherstone
There are many ways that we mark his birth-day all over the world.  It is tradition to chant the Long Ek Ong Kars in the morning of the 26th of August for 2.5 hours.  This is a tradition the whole community practices each year.
Here are some other ways to honour Yogi Bhajan's birth-day:
https://www.3ho.org/yogi-bhajan-memorial-sadhana-ways-celebrate
About Yogi Bhajan: