In a Flash of Lightening or a Moment of Insight!
The recent Libran New Moon highlighted relationships. Pluto's interaction with the Moon at this time brought power and control issues to the fore and promoting the opportunity for some deep transformation. Pluto has recently gone direct having taken us on an inner journey into our subconscious desires and our collective shadow, while teaching us something about inner strength and our place in the world. On Friday October the 12th the Sun opposes Pluto, perhaps calling us to account for unfinished business from the past. This applies powerful pressure to let go of any patterns of behaviour that are no longer serving us, as a precursor to creative transformation.
In the creative dance between feminine Venus and masculine Mars, we may have experienced frustration and repressed anger during the long retrograde phase of Mars. More recently Venus moved into its retrograde phase and continues to moves closer to Earth, encouraging deep reflection around the way we approach love and relationship, money, and personal values. By October 11 Venus and Mars square off again ensuring some passion and desire are at play.
On Wednesday, the 24th of October, the Sun moves into the passionate sign of extreme responses, Scorpio. Mercury, Venus and Jupiter are already in Scorpio reinforcing the Pluto energy. Sensitive, imaginative and moody Scorpio has essential links to both Mars and Pluto and we can expect an intense time, especially between now and the last day of October. Then Venus goes backwards into Libra while Mercury goes forward into Sagittarius.
The Taurean Full Moon occurs at 3:45 am on Thursday the 25th of October at two degrees of this material world Venusian sign. Irrepressible Uranus is less than one degree from the Full Moon and Venus will line up with the Sun opposite them. Expect the unexpected in relationships and money matters. We should anticipate that truth will be revealed in irrepressible ways. Fittingly the Sabian Symbol for the Full Moon is An Electrical Storm Illuminates the Heavens and the Forest perhaps suggesting a sudden flash of insight. This reinforces the significance of lightning strike Uranus joining forces with the Moon at this time, doubly highlighting lightning and sudden events. This could be quite electric. There may be transformation in the air in relation to nature or an abundance of positive possibilities. There is bound to be change, excitement and uncertainty, especially in relationships. A few of us may be in line for the advent of a new relationship, seemingly out of the blue. And with the Lunar Nodes involved destiny is in the mix.
Thankfully the erratic and impulsive nature of Uranus will be moderated by a helpful aspect with Saturn at the Full Moon. This may turn unexpected changes into opportunities and relationship uncertainty into reassurance and commitment. Saturn brings practical solutions that lead to greater security and stability. We live in interesting times!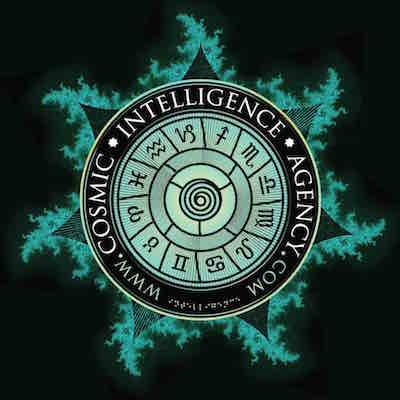 Gillian Dwyer is a Melbourne astrologer Agent 25 of the C*I*A and frequent participant at Kundalini House.