We are still providing Clinical Nutrition & Acupuncture treatments during the COVID 19 pandemic. You can also book in for an ONLINE treatment for Chinese Med Herbs, Clinical Nutrition and Immune support.
Please contact the reception to organise a time.
Clinical Nutrition and Acupuncture is an holistic, patient centred approach, combining research based Clinical Nutrition and ancient Chinese Medicine. Your therapist will look at the underlying disease and the biomechanics in each individual, using ancient techniques such as pulse and also modern diagnostic tools. It aims to determine the root cause of your health concerns, be it hormonal, digestive, or emotional.
In many instances there is often a biological imbalance that can be corrected with targeted interventions, such as dietary alterations, vitamin and nutrient supplementation, Chinese Herbal medicine, Acupuncture and relative lifestyle advice.
During the session the practitioner look at the individuals specific health concerns and any imbalances they may have, including nutrient deficiency, poor diet, sleep disturbances, exposure to environmental pollutants, such as heavy metals and hormone disrupting plastics. Using tailored techniques they will aim to rectify these problems, which can cause illness and disruptions to all the systems including the endocrine system.
Many people suffer from conditions such as fatigue, weight gain, mood imbalances, a suppressed immune system, digestive complaints; to name a few. Stress has also been shown to have significant impacts on these health concerns. Stress may have a negative effect on our adrenal function, influencing our physical, mental, psychological and even spiritual sense of wellbeing.
In combination, Clinical Nutrition and Acupuncture can be effective for relieving stress and working with digestive, hormonal, energy and mood related issues as well as general health concerns.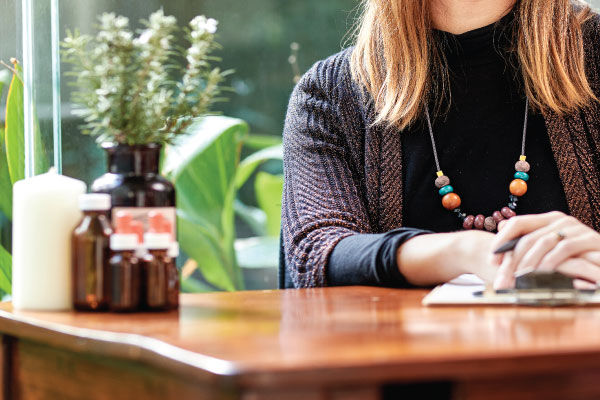 The combined Clinical Nutrition and Acupuncture consult uses an holistic approach with a personalised treatment plan, to guide the individual to health harmony.  The initial consult involves an extensive discussion regarding your health history. Lab and biomedical pathology tests will be employed to assist in creating a more detailed individual diagnostic report, with specific tests ordered where required. The session will also involve an Acupuncture/bodywork treatment, which will aid in recalibrating the nervous system to promote healing and homeostasis. Through this process we will develop a personalised treatment plan, involving dietary and lifestyle support, complimented by vitamin and food supplementation.
Ongoing sessions will help to reinforce the healing process through continued dietary and lifestyle advice, acupuncture in addition to recommended vitamin and herbal supplementation. Skype or phone consultations can be organised for follow up queries, for a minimum 20-minute check in.
Consults are available on Thursdays and Saturdays with Leoni Zakarias (Dr of Traditional Chinese Medicine) a qualified Chinese Medicine practitioner, who incorporates Chinese Medicine with Clinical Nutrition and biomedicine theory.
Please read before your Initial appointment
Our Clinical Nutrition & Acupuncturist
Leoni Zakarias
Initial Clinical Nutrition & Acupuncture: $210/$180
Clinical Nutrition & Acupuncture follow up 90 mins: $150/$120
Clinical Nutrition/Herbal 30 mins: $60/$55
Book online or call us on 9482 4325 to make an appointment.