I am so excited to be offering you the powerful medicine of your own placenta to support you to start your mothering strong and balanced. This is such an incredible opportunity to claim the amazing benefits for yourself. To book in please click on the book now page of my website http://www.openingtolife.com.au/book-now/. When your placenta is ready simply give me a call and I will arrange pick up.
Anna Papadakis
Investment
Encapsulation: $350
Tincture: $125
Both Encapsulation and Tincture: $475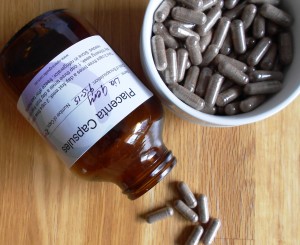 Placenta encapsulation is a safe and easy way to get the benefits of your placenta. For your ease, Anna will come to your place of birth and pick up your placenta and carefully prepare it with special herbs and dry and encapsulate it. Placentas are thought to hold the imprint of your child and are buried by many cultures, and Anna lovingly prepares and dries the placental sac for you to keep or bury yourself.
The benefits of consuming your placenta include:
Preventing and lessening the risk of postpartum depression or the 'baby blues' due to the hormone supply in the placenta that helps stabilise your own hormones.

Replenishing your iron from blood loss during birth and to prevent post birth anaemia.

providing an ongoing source of the love and bonding hormone oxytocin.

Providing an ongoing source of the Human Placenta Lactogen hormone to help establish early and healthy milk supply.

Replenish your B vitamins and energy used in the process of growing and birthing your baby.

Protection from infection and bleeding.

Providing natural pain relief.
Placenta capsules are for immediate post natal wellbeing, restoring hormone/mood balance, energy, iron, helping with breastfeeding. Placenta tincture takes 6 weeks to prepare and lasts a lifetime, it is a personal wellbeing remedy to use in times of illness, pain, injury, stress, transition, hormone fluctuation (e.g. future PMT or menopause) or whenever you need support. The tincture is like a magic personal medicine for everyone in the family! You can read more about tinctures here:  http://www.openingtolife.com.au/capsules-tinctures/
Included in your package:                                                            
Placenta Print

Photo

Letter

Cord Keepsake

Dried Sac
You can see more at my website including some links to articles etc. http://openingtolife.com.au
"I love, love, love my placenta pills. We call them my happy pills. It's such a different experience with these pills. With my first, I cried every single day for weeks. I was a mess all the time and so fragile physically, mentally and emotionally. I haven't cried once this time even though it's so much harder with 2 kids under 2. My husband has noticed a huge difference.  I am so connected with my daughter Ava. I am so in sync with her it surprises me. I am full of energy even with little sleep, breastfeeding has been so easy this time and milk is a plenty. My girl is 8 weeks old, was born 3.5kg and is a very healthy 6kg now. I'm so proud that I have been able to nourish her to this perfect little chubby human. 
My skin has been amazing, it was so dry last time I had blotches on my face. I feel happy all the time, its hard to explain its like I'm still on that amazing high you feel after childbirth. My uterus contracted so fast this time. My treating team couldn't believe how well it contracted. After birth bleeding stopped in 3 weeks with a bit of spotting afterwards.  I had a heavy bleeding last time for 6 weeks. 
Thank you so much for making a difference to my life as I take on this role as a mother of 2 beautiful girls." Rouba
Anna Papadakis

FERTILITY & PREGNANCY QUICK LINKS
Pre & Post Natal Massage
Pregnancy Support
Pregnancy Induction
Fertility Support
Prenatal Yoga
Mums & Bubs Yoga