Enjoy a full week of live, interactive Yoga classes from the comfort of your own home.
Kundalini House in North Fitzroy is now offering a full week of ONLINE LIVE Yoga, Qi Gong, Meditation, Prenatal Yoga, Mums & Bubs, Yoga Therapy classes and courses. Our professional and experienced Yoga Teachers will create an experience as if you are present in the class.
Connect in with your community and practice with others in the comfort of your own home. Our online system has been set up and designed by professional audio specialists to create an experience to enjoy. This is the time to stay focused on your health and wellbeing, we are proud and humbled to offer this service during the world wide COVID19 lockdown. Our thoughts are with all beings that are suffering at this time and we look forward to practicing with our global community, wherever you are.
It's very simple, all you need to do is book into a class via our website or app and you will instantly recieve an email &/or text with the Class Link details.  Keep the email handy so you can easily retrieve it when the class is about to start.
See our TIMETABLE for classes and bookings.
Getting set up for Online Classes?
"There is no power for change greater than a community discovering what it cares about." – Margaret J
Before you begin your classes:
Download ZOOM: Video Conferencing onto your computer or device.
Note: Some browsers may need updating to do so.
You can sign in for our online classes in the usual methods on our website via the timetable, on the Kundalini House app and the MindBody app.
Receiving the class link email:
Your Class Link will be sent to you instantly, once you have booked in, by an 'Online Class Link Confirmation' email &/or text.
The email will come from info@kundalinihouse.com.au
If you find you haven't received this email please check your junk or spam box.  PLEASE save our email to your email address book if you can.
Setting up for yoga:
Each class may use various props, some teachers will show you before the class begins of ways you can use home made options. If you do have props at home, please have those ready at hand for your class and your mat.
We have bolsters, mats, blocks, straps, eye pillows and cushions available in store for pickup or delivery.
Ensure you have enough space around you and you have some privacy.  We are very accustomed to having pets and kids join classes!
Music:
Some teachers may share their Spotify playlist or a Youtube track for use during the class.  So if you have another device you can play this from, have it ready.  Don't worry if you don't, it's not essential.
Do feel free to play your own music during your practice.
Can others in my household join the class?
Yes, we have a Household Online Class Pass option ($22)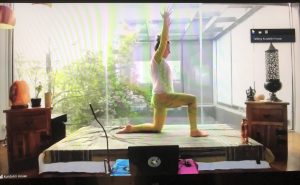 The best view for you to enjoy your online class experience is to select 'Speaker View' & 'View Full Screen' (you will find these options at the top right cnr of your screen)
You can choose to see a side panel of others in the class or minimise the box to only see the teacher.
Welcome to your online class experience!
Please try and join the class before the starting time of the class so the teacher can greet you and check your name off the class list.
Upon joining the class set up your screen view and open the 'CHAT' option to read any correspondence.
If your ZOOM name is not your full name, please write your name in the 'CHAT' box.  You can send it to everyone or select Kundalini House (Host) for a private message.
Please let the teacher know if you have any injuries, challenges or anything that would be helpful for them to know to help assist you through the class.  You can do this via CHAT or unmute yourself and speak to them directly.
Please feel free to chat to the teacher before class begins.  Though if you are not talking we ask you to mute your microphone, you can find this option at the bottom left hand corner of your screen.
We encourage you, if you feel comfortable, to leave your camera on and place it where the teacher can see you practicing, this way the teacher can give guidance throughout the class and teach to you all fully. Of course, this is optional for everyone.
Are you new to Kundalini Yoga?
Visit here to learn more.  There is a link there with 'Commonly used Mantra's'. You may want to print it out for your use.
We look forward to seeing you online soon.
How do you get the most out of my class?
When your attitude shifts from fearing challenges to accepting them, you'll break through your limitations.  When you learn to be excited by challenges, you'll become limitless.
Set up a space in your home, office or outside where you have enough room to move and where you won't be interrupted.
Prepare your mat and have a blanket, bolster, strap and block handy if you have them.
Please approach the class with care and respect for your body.  Take it at your own pace and if you feel you need to rest, please give yourself that option.
Feel free to put your own music on to enhance your experience of the class.
Please send us any feedback to help us improve our service to you.  It could be about an individual teacher or general feedback.
We sincerely hope you enjoy your class.