The Aquarian Teacher
Melbourne
KRI Level 1 Teacher Training Program Instructor Certification – Foundations
Become a teacher!
Teaching Kundalini Yoga is more than just a profession. It's a way of life. To choose a life as a teacher is to have a commitment to the 'Self'; to work towards living in a positive state of joy, peace and contentment. When people see you smiling and walking tall, they will come to you. The power of your presence will uplift others and create positive change around you.
Becoming an instructor of Kundalini Yoga in times such as these, where people are suffering from stress, anxiety, mental health disorders and "dis-ease" from modern living, will give you the tools to help people immediately. The need for yoga has never been greater.
This 220 hour Kundalini Yoga course is run over eight months. There is one intake per year.
The Teaching Team

Siri Bhagvati Kaur (Billie Atherstone) started practicing yoga because she was searching for a practice that integrated the theories, concepts and knowledge of her health science studies into a direct experience. She started teaching yoga in 2003 and is a Professional Kundalini Teacher Trainer. She is also in the Yoga Therapy teaching faculty team with Dr Shanti Shanti Kaur.  Her training in kundalini yoga, yoga therapy and in natural health and healing has given her the tools to meet people where they're at and be able to help guide or simply create the space and awareness needed, to embark on the journey of discovering who they are.
GuruJivan is also a Lead Mentor Teacher Trainer of Kundalini Yoga in Australia. She has been teaching for the past 40 years. She spends much of each year guiding new students and mentoring new teachers so that more and more people will have the benefit of this magnificent technology in their lives.
We will also be joined by support teachers at different times.
Kundalini House is responsible for enquiries and registration.
"If you want to learn something, read about it.
If you want to understand something, write about it.
If you want to master something, teach it."
YB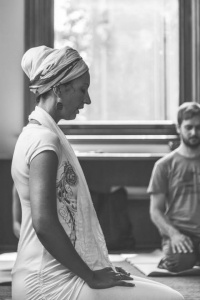 Introduction
In the past few years the Kundalini Yoga community in Australia has grown in numbers and in enthusiasm as more people discover the transformative strength of the practice and science of Kundalini Yoga.
As we enter the Aquarian Age we no longer have to search for knowledge or be initiated, instead it is time to 'experience' and discover that everything that we need to reach our potential is within us. 'It is time to stand on your own two lotus feet'.
2020 Course Dates
There will not be a training offered.
2021 Course Dates
TBC
Program Overview
The Aquarian Teacher Certification program is open both to yoga students ready to become instructors and those who wish to immerse themselves in the science of Kundalini Yoga.
The course teachings will give you a foundation of Kundalini Yoga. The concepts covered will include mudra, mantra, asanas, pranayama, meditation, yogic and functional anatomy, yogic philosophy, the Aquarian Age, Humanology, sadhana, practical teaching, ethics and more.
The course is set over seven months, from March to October.
The structure and time frame of this course gives you a unique opportunity to really establish your practice and integrate the teachings so that you feel ready to begin teaching with confidence and with a connection to the community.
Attend one full day of White Tantric Yoga (Cost not included in course fee).
More Information
To register your interest in the course, please get in touch.