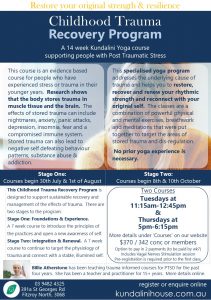 Childhood Trauma Recovery Program
A 14 week Kundalini Yoga course supporting people with Post Traumatic Stress.
This course is an evidence based course for people who have experienced stress or trauma in their younger years. Research shows that the body stores trauma in muscle tissue and the brain. The effects of stored trauma can include nightmares, anxiety, panic attacks, depression, insomnia, fear and a compromised immune system. Stored trauma can also lead to negative self defeating behaviour patterns, substance abuse & addiction.
This specialised yoga program addresses the underlying cause of trauma and helps you to restore, recover and renew your rhythmic strength and reconnect with your original self. The classes are a combination of powerful physical and mental exercises, breathwork and meditations that were put together to target the areas of stored trauma and dis-regulation.
No prior yoga experience is necessary.
This Childhood Trauma Recovery Program is designed to support sustainable recovery and management of the effects of trauma.
There are two stages to the program:
Stage One: Foundations & Experience. A 7 week course to introduce the principles of the practices and open a new awareness of self.
Stage Two: Integration & Renewal. A 7 week course to continue to target the physiology of trauma and connect with a stable, illumined self.
Two Courses:
Tuesdays at 11:15am-12:45pm & Thursdays at 5pm-6:15pm
$380 / $352 conc or members
*this price includes a 30min Vagal Nerve Stimulation session
Option to pay in 2 payments – 2nd payment must be finalised by week 7.
Pre-registration is required prior to the first class
NEXT PROGRAM BEGINS: Tuesday 18th of February or Thursday 20th of February, 2020
Please see disclaimer at the bottom of the page for our cancellation policy.
Nervous System Repair with IRest Yoga Nidra
We live in a time of emphasis on production, consumption and over stimulation, this overwhelm can manifest as insomnia, tiredness, substance abuse, depression and anxiety. Fortunately, there are ancient paths walked before that share wisdom technologies that help restore our "True Nature" and wellbeing and bring balance to our nervous system. The deeply healing restorative method of iRest yoga nidra allows you to revive your nervous system by disengaging with "flight and fight" and activating "rest and digest" helping to restore all bodily systems and awaken your own healing capacity. Tough emotions are part of our contract with life. Discomfort is a price of admission to a meaningful life. iRest teaches there are no bad or good emotions or thoughts they are messengers guiding us back to living in harmony and an authentic life.
The extensive scientific studies into the benefits of iRest include: reducing symptoms of PTSD, anxiety, depression and chronic pain, minimizing auto immune issues and assisting in chemical dependency recovery. Overall iRest yoga nidra helps create a feeling of wellbeing.
For more information about iRest and the significant research in the efficiency of the practice visit www.irest.us
Mondays at 5.15-6.15pm
8 week course – $200 / 184 conc & KH members
Please see disclaimer at the bottom of the page for our cancellation policy.
7 Week Course Yoga & Meditation Course for Anxiety and Stress
Anxiety is the experience of nervousness, uncertainty, worry, fear or panic and can often be linked to stress. It is the most common mental health condition in Australia today*. This 7-week course will provide learning and practice of specific Kundalini yoga and meditation techniques to counter the physical, mental and emotional experience of anxiety and stress. Learn practical and highly effective tools that provide immediate relief from anxiety, as well as ongoing practices to assist with better sleep, stress management and a restless, busy mind. You will practice in a group setting, while developing a deeper understanding of your own personal triggers and how to shift yourself into a calm and stable state, to be self-reliant and strong.
No experience with yoga or meditation is necessary. This course is open to everyone. This is a therapeutic course and requires a pre-course evaluation form to be completed and a phone or in person meeting with Nancy before the course begins.
*Ref beyondblue.org.au
Teacher:
Nancy Hanley
Dates:
Monday 4th November  (7 week course)
Time:
8 – 9pm
Investment:
Full: $175
Members and concession: $161
Please see disclaimer at the bottom of the page for our cancellation policy.
Healing Addictions 10 Week Course
"When you enrich your mind, you can break the slavery of low habits and ego. You can act as the entire cosmos and learn to elevate and let go." –Yogi Bhajan
Learn how to connect to a power higher than those that keep you bound to unhealthy patterns. The path to true freedom lies within our ability to cultivate healthy habits which are in service of a deeply fulfilling lifestyle. Through the course of life, we often pick up unhealthy habits and behaviours from experiences and environments which can affect the quality of our mental, physical and emotional health. Habits that affect our quality of life can manifest itself in many different forms like food, social media, negative thoughts, drugs and alcohol, sex, gambling and work to name a few.
This 10-week course is designed with the intention of giving you yogic tools and techniques to strengthen your ability to sit with, and look at what is happening beyond the surface of the distractions we busy ourselves with.
Suitable for all levels of experience and all who have a deep longing to connect to, and explore the highest potentials of a life lived with decisive action, an ability to manage emotions, a clear open perspective and an inspired, trusting heart.
"I am deeply grateful to Onkartej for her generous and attuned teaching, and her commitment to me as a student, and the group of us as a whole. I would highly recommend her course to students who are wanting to deepen their self-understanding, who are interested in the concept of taking responsibility for personal growth and who are wanting to find new sustainable ways of working with difficult emotions and habits over time." – Anon
Do you have a question?  Email us at info@kundalinihouse.com.au or onkartej@peacelovetruth.com
Dates:
Soon to be released
Time:
Fridays at 11:00am – 12:15pm
Investment:
Full: $250
Members and concession: $230
Plus $15 for booklet and handouts
Please see disclaimer at the bottom of the page for our cancellation policy.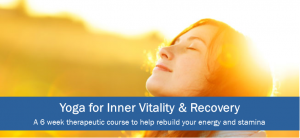 Yoga for Inner Vitality & Recovery:
A 6 week therapeutic course to help rebuild your energy and stamina
This course is designed for people who have experienced long term stress or are interested in rebuilding and managing their energy so that they can cope with life more easily and recover from emotional stress or illness.
The classes will include a combination of gentle nourishing physical exercises & postures, breathwork and meditations that are aimed at regulating the brain and nervous system; building inner vitality and balancing ones emotional and mental wellbeing.
The course will be slow and progressive with a focus on self nurturing practices and space for self reflection and inquiry.  Commit to your own health and wellbeing so that you have the energy to create positive change in your life.  No prior yoga experience is necessary.
This course is open to family members or support persons too!
Dates:
Dates soon to be released
Time:
Tuesdays at 11:15am – 12:30pm
Investment:
Full: $150
Members and concession: $138
Please see disclaimer at the bottom of the page for our cancellation policy.
Kids Yoga
A creative and playful class offering of Yoga and Meditation for children aged 6-11.
Sun Child Yoga aims to give children an experience of getting to know themselves and their bodies in a joyful and exploratory way. Research shows that yoga and meditation for children helps to reduce anxiety and aggression, it improves social behavior and makes children more loving, self-conscious and calm. Their nervous system is strengthened, their self-confidence is increased and their personality is reinforced.
Sun Child Yoga prepares children to face the challenges and negative aspects of life with a positive approach and with tools that work.
Each 45 minute class includes:
Tuning In
Breath exercises, Warms-up, Games
Yoga Set
Relaxation
Meditation
Close
Investment:
$144 per 9-week term ($16 per class, paid per term)
second sibling: ($12 per class paid per term)
Payable per term only
Additional information:
It is possible to start mid term.
No make up classes for missed classes (incl. first class)
Please see disclaimer at the bottom of the page for our cancellation policy.
Mums & Bubs Course
Mums & Bubs Yoga at Kundalini House is open to mothers and their babies, aged 6 weeks to trotting age. These classes are designed to be a beautiful experience for both and a safe and held space to meet other mums and bubs.
When:
Tuesdays 2-3pm
Please see disclaimer at the bottom of the page for our cancellation policy.
Cancellation Policy for Courses:
Disclaimer: Please be advised that Kundalini House has a cancellation policy which applies to courses held by or at Kundalini House. Please read the following carefully to ensure you understand the policy. • A cancellation of the full course, at any point, incurs a definite 30% administration fee of the entire course cost that is non-refundable. • Cancellations that occur more than 48 hours before the beginning of the upcoming session, will only incur the administration fee of 30% per remaining scheduled class(es). Past sessions of the course will not be refunded. • If you cancel your course with only 24 hours' notice, you will be refunded 50% of the cost of the course (outstanding classes only), minus past sessions. • No-shows and same day cancellations of sessions are not refunded. You will be refunded with credit on your Kundalini House account which you can use on products or services, if you wish to receive a refund to your bank account; a further 5% charge will apply for administration. Kundalini House strictly does not refund in cash.