Some of you may have seen our beautiful Kundalini House magnets which feature the Five Sutras of the Aquarian Age as given by Yogi Bhajan and the artwork of our very own Sun Haas, whom most of you probably know from the reception desk.
Firstly, we wanted to invite you to learn a bit more about the Five Sutras of the Aquarian Age, as they are the words that can support us through this era. The incredible 3HO offers wonderful explanations of everything Kundalini Yoga and below you can find the explanation about the Five Sutras of the Aquarian Age from their website.
Also featured in this blog post is an interview with Sun to learn a bit about her art-making process and what the magnets are about!
Happy reading <3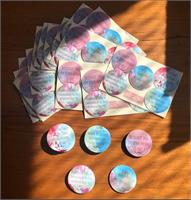 About The Five Sutras of the Aquarian Age
As published on www.3ho.org
The 5 Sutras of the Aquarian Age
"In this time Piscean values are giving way to Aquarian values. The difference between the two is very simple. Piscean values work from the ego, creating boundaries. Aquarian values have no boundaries; they are Infinite. Aquarian consciousness takes you inside your soul, so that you can relate to the soul in all."
-Yogi Bhajan from Aquarian Times, Spring 2003
A New age calls for its own words to live by. Yogi Bhajan, Master of Kundalini Yoga and spiritual teacher to thousands, shared five principles which he called the Five Sutras of the Aquarian Age. They are as simple and straightforward as they are deep and transcendent.
Sutras are, figuratively and literally, "threads" that string life together. They are words to live by. The yoga sutras of Patanjali have sustained the world over thousands of years in their perfect wisdom. Astrologers have determined that every two thousand years, time moves us backward through the astrological signs, into a new age. In simple language this means that we are completing the age of Pisces and moving into the Age of Aquarius. Each age has it's own theme, its own axiom.
"These are the five Yogic Sutras of the Aquarian Age given to us by Yogi Bhajan. A sutra is a 'knot.' It is a complex spiritual concept reduced to one sentence and later expanded upon by a spiritual teacher. Sutras allowed sacred teachings to be protected from harm (by appearing harmless to conquerors) and were brief enough to be remembered by students in ancient times." -Haribhajan Singh, aka Catalyst Yogi.
The Five Sutras of the Aquarian Age
1. Recognize that the other person is you.
2. There is a way through every block.
3. When the time is on you, start, and the pressure will be off.
4.  Understand through compassion or you will misunderstand the times.
5. Vibrate the Cosmos. The Cosmos shall clear the path.
Interview with Sun
Hey Sun! Now this is a role reversal, because normally it's you asking the questions 😊 We all know you from the reception desk and have also shared classes and workshops with you, but we are curious about your art and connection to Kundalini House!
What is your background?
I studied Fine Arts and Fashion Design in Berlin, Germany, where I am from originally and since coming to Australia I have completed studies in Art Therapy. I have always loved drawing, painting and sculpting, whether with French linen or twigs from across the street. I first came to Kundalini House to practice Yoga and it felt like coming home. After being a Yoga student for three years, I started working at reception and in marketing, and have been part of this amazing community for five years now. As soon as I first stepped into Kundalini House my heart knew that I was in the right place.
What is your process?
At the moment I am painting a lot in my studio in Collingwood, on tiny and big canvases, wooden panels and various papers. I use acrylic paint and gouache freely – I love texture and colour! You might call my process spontaneous or inspired, but when I am making art I enter a meditative state, where I feel guided by something that lies beyond my conceptual ideas and inspirations.
How did your artwork end up as part of the Kundalini House magnets and what inspired you all to make them?

I look after the marketing and in parts after the visual identity of Kundalini House and work closely with Billie and Pip to ensure that their wishes, needs and visions are met. It was an exciting moment when we decided to feature the Five Sutras of the Aquarian Age on the magnets, after all they are the sutras that Yogi Bhajan gave to everyone living in the Aquarian Age, which is now! So it's a big deal 😊
We loved the idea of these important sutras in an accessible medium, such as magnets, so that they can feature in our daily life and remind us of our inner divine nature and guide us to our own truth. To offer my art as the background to the Five Sutras of the Aquarian Age makes complete sense to me and is also a way for me to honour the meaning of Yogi Bhajan's words and the journey and connection of us all. I feel very lucky that Pip and Billie are so supportive and trusting, and that they wanted my paintings as part of the magnets! I think we all hope that they bring support, truth and some colour and joy into your life or that of a loved one 😊
Thank you and warmth,
Sun
You can see more of Sun's artwork on her website haushaas.com.au
Thank you, Sun! Our fridges are already covered in the magnets!
You can purchase the beautiful magnets at our Kundalini House shop, located on 391A St Georges Rd, Fitzroy North. If you have any questions, contact our lovely reception on (03) 9482 4325.