Do you suffer from muscle cramps or spasms?  Or perhaps mild anxiety and nervous tension?  If you do, then BioCeuticals Musclease may help to reduce these symptoms.
Ultra Musclease is a powder that gives you a high dose of magnesium in a patented form that is easily absorbed.  It can help by regulating both the muscle response and nervous system transmissions.  This effective supplement can assist in optimising the mitochondrial energy production.  In addition, this product contains Chelazome-UltraMag that enhances the absorption of magnesium as well as B6 that enhances the magnesium activity and provides therapeutic support.
Magnesium is an essential mineral for the human body and here are just a few points as to how it assists us in staying healthy!
•    Energy production
•    Nucleic acid and protein synthesis
•    Electrolyte balance
•    Maintenance of cell membrane integrity
•    Regulation of muscle contraction and relaxation
•    Nerve conduction
•    Regulation of vascular tone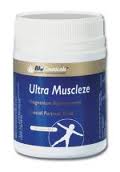 Ultra Muscle Ease supports you during times of stress, physical exercise, pregnancy and aging.
Bio Ceutical 150g Musclease is available from Kundalini House for $35.75