The beauty of Kundalini Yoga is its dedication to inspiring women to be physically smart, mentally stable and spiritually fantastic!  Yogi Bhajan believed that through the empowerment and upliftment of women, the consciousness of the world would shift.
"A Woman's Book of Yoga' is a great read and a practical resource book that is written by both a respected Kundalini Yoga & Meditation teacher and a professor of clinical obstetrics & gynaecology.  Some of the topics covered in the book include: The moon centres; menstruation; sexuality, intimacy & pleasure; pregnancy; menopause; nutrition and natural beauty.  This book has a good balance of practical suggestions that can be easily added to a busy schedule and accurate information on the philosophy of yoga and on being a woman.  It's quite nice to read a book that reinforces that woman are multifaceted beings and one that honours the natural transitions of a woman's life.
You can't go wrong with this book…even men would benefit, by getting an insight into the subtleties of a woman!  This book is a perfect gift for Christmas.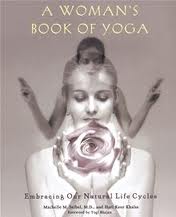 Reviewed by Billie Atherstone.
A Woman's Book of Yoga is available at
the Kundalini House Bookshop.
Price $40