September, 2013
My interest, study and practice of yoga has been, shall I say, impassioned for over a decade now. Ten years of teaching yoga has been an absolute gift. Coming back to teach my regular class after a two week break, I was reminded of how lucky I am. For me, to teach is to invite and guide a group or individual to journey within themselves; to find that stillness, even for a moment; to awaken a curiosity of their inner world and for the array of sensations sweeping through the body; to encourage them to expand beyond their self-made definitions. To offer that to people is such a treat as I too can experience it and build on it. That all sounds nice, but also on a practical note, what I love about yoga is that it is health giving.
When I was first trained as a Kundalini Yoga teacher I was trained to teach people who were already healthy; people who wanted to increase their strength and flexibility, decrease their stress levels and feel vital. Classes weren't aimed at people who had a health condition, even though I knew that a lot of the techniques I had learned could be applied to specific conditions. But over the years of teaching, I have often met students who had specific needs and who aren't necessarily suited to a general class. More and more people with complex needs are attracted to yoga because they have experienced or read about the benefits of a simple practice. There are more books, such as Meditation as Medicine by Dharma Singh Khalsa, M.D & Cameron Stauth that enlighten people on how yoga can create a positive change in their health without the use of medication. There are continually more studies of yoga and complementary care being conducted. The National Cancer Institute is even sponsoring a $4.5 million phase III clinical trial, presently the largest study of yoga in cancer ever funded.
Kundalini Yoga, as taught by Yogi Bhajan, has an incredible curriculum of continuing education and training. On finishing my initial teacher training I could then continue with my level two training which was a series of rich and well written intensive modules on communication, relationships, stress and its effects, the mind and meditation, lifecycles and within this training you could grasp a solid understanding of our body and it's systems. The trainings not only served me as a teacher but also added so much to my Kinesiology and Bowen therapy. What a difference 10 years of teaching and practicing makes.
When I heard that a pioneer, in the west, for the therapeutic application of Yoga, Dr Shanti Shanti was coming to Australia I immediately put up my hand. I was already applying yogic techniques in a therapeutic capacity in my treatment sessions but I felt that I lacked a foundation or language that enabled me to apply it with an innermost confidence. What Dr Shanti Shanti was offering was a Foundations of Yoga Therapy course and a module for working with the Immune System, Cancer and Viral Conditions. A few months later I was on a plane to Sydney again ready to dive into the teachings of yogic sciences. Like all Kundalini Yoga retreats, each training day began at 5am for a 2.5hr practice session and ended just in time to crawl into bed at 9pm. It may seem gruelling, but actually it's uplifting and delightfully arduous.
Over the duration of the five day retreat Dr Shanti Shanti challenged us to look at the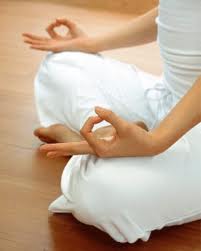 teachings from a different perspective. Each person with a health condition presents with varying diagnoses and symptoms, be that from the health condition itself or from the medical treatment they are undergoing. It is really important to assess each individual according to their health needs and their capacity and endurance. We mused on the concept of matching the yogic techniques to the person rather than match the person to the yoga and were encouraged to engage with our own sensitivity with a conscious intention to raise the vitality of the audience. The practice of Kundalini Yoga has an emphasis on stress reduction, resilience, inner growth and development, and spirituality which is why it is particularly appropriate for conditions such as cancer, viral conditions and mental illness.
It is undeniable that yoga can greatly enhance your mood and sense of well-being, and this is why the popularity of yoga for health conditions is increasing. The director of research at Kundalini Research Institute, Sat Bir Singh Khalsa, Ph.D. says in a recent article "in addition to improving psychological factors, studies have also shown benefits for physical symptoms including fatigue and nausea". Another encouraging finding is evidence from a few studies which have actually shown improvements in immune function following yoga practice in cancer patients, a physiological function that one could imagine would be critical for resistance to cancer tumour growth.'
It was deeply reassuring for me to attend this retreat with the inspiring Dr Shanti Shanti, and learn the foundations of applying yoga therapeutically, as well as discovering the proliferation of research and findings of the benefits of yoga. I have always felt that my own personal yoga practice has greatly improved my health and it continually serves me through my highs and lows. So with this shift in my knowledge, understanding and experience, I look forward to developing myself as a Yoga Therapist and bring Kundalini Yoga as taught by Yogi Bhajan for health conditions, to Kundalini House.
Click here for courses offered by Billie.
If you would like to speak to me about your own story or are interested in classes specific to your needs please contact me at billie@kundalinihouse.com.au.
In service,
Billie Atherstone
Billie is a Kundalini Yoga Teacher, Bowen Therapist and Kinesiologist at Kundalini House
References:
Article: Supportive Care: Large Studies Ease Yoga, Exercise Into Mainstream Oncology. jnci.oxfordjournals.org
http://www.kundaliniresearchinstitute.org/newsletter/2013/August%20Newsletter.html