So what Dosha are You?
by Pip Atherstone-Reid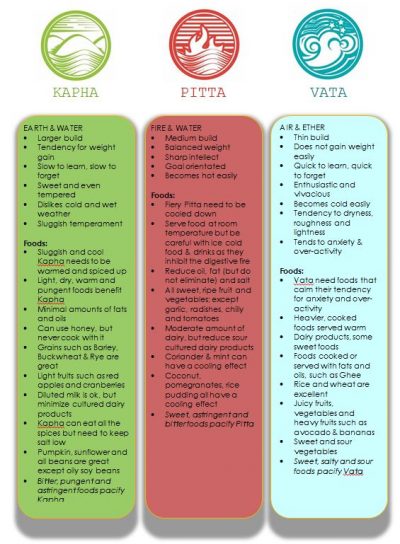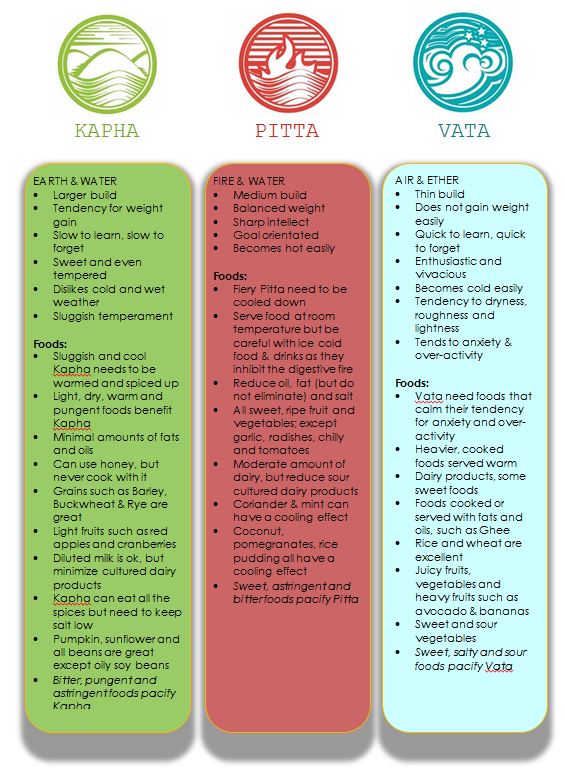 KAPHA:
EARTH & WATER
Larger build
Tendency for weight gain
Slow to learn, slow to forget
Sweet and even tempered
Dislikes cold and wet weather
Sluggish temperament
Foods:
Sluggish and cool Kapha needs to be warmed and spiced up
Light, dry, warm and pungent foods benefit Kapha
Minimal amounts of fats and oils
Can use honey, but never cook with it
Grains such as Barley, Buckwheat & Rye are great
Light fruits such as red apples and cranberries
Diluted milk is ok, but minimize cultured dairy products
Kapha can eat all the spices but need to keep salt low
Pumpkin, sunflower and all beans are great except oily soy beans
Bitter, pungent and astringent foods pacify Kapha
PITTA:
FIRE & WATER
Medium build
Balanced weight
Sharp intellect
Goal orientated
Becomes hot easily
Foods:
Fiery Pitta need to be cooled down
Serve food at room temperature but be careful with ice cold food & drinks as they inhibit the digestive fire
Reduce oil, fat (but do not eliminate) and salt
All sweet, ripe fruit and vegetables; except garlic, radishes, chilly and tomatoes
Moderate amount of dairy, but reduce sour cultured dairy products
Coriander & mint can have a cooling effect
Coconut, pomegranates, rice pudding all have a cooling effect
Sweet, astringent and bitter foods pacify Pitta
VATA:
AIR & ETHER
Thin build
Does not gain weight easily
Quick to learn, quick to forget
Enthusiastic and vivacious
Becomes cold easily
Tendency to dryness, roughness and lightness
Tends to anxiety & over-activity
Foods:
Vata need foods that calm their tendency for anxiety and over-activity
Heavier, cooked foods served warm
Dairy products, some sweet foods
Foods cooked or served with fats and oils, such as Ghee
Rice and wheat are excellent
Juicy fruits, vegetables and heavy fruits such as avocado & bananas
Sweet and sour vegetables
Sweet, salty and sour foods pacify Vata
Please leave a comment! We love to hear from you!
Pip Atherstone-Reid is the co-founder and co-owner of Kundalini House and has been an Acupuncture and TCM practitioner for over 15 years. She is available for Acupuncture & TCM appointments on Tuesdays and Thursdays.