Living in Peace and Harmony leading into the Aquarius Full Moon
The Leo New Moon got the month of August off to a creative, fiery and heartfelt start, ideally reconnecting us on some level with our inner child. Mercury stationed to turn direct an hour before the New Moon and will be in its shadow period until the 16th of August, when it gets back to the point where it was at prior to its apparent backward journey. Everything may start to make more sense once Mercury re-enters Leo on the 12th of August, joining the Sun, Venus and Mars in this radiant sign and encouraging us to share our creative ideas with passion & confidence once again.
Last week we experienced Mars doing an exuberant and especially fiery dance with Jupiter, followed shortly after by a tricky interaction with the more sombre Saturn. This same sequence with the outer planets will be played out by the Sun, and then Venus as they follow the same pattern of interactions with Jupiter, and then Saturn, followed shortly after by Neptune and Pluto. But before this reality check for the solar principle it is worth savouring the particularly benific interaction between the Sun and Jupiter which will make Wednesday the 7th of August an especially expansive, passionate and lucky day. With Jupiter in its home sign of Sagittarius and the Sun shining in its rulership of Leo it may be a time to thank your lucky stars.Of course it then goes on to form tricky aspects with Saturn, Neptune and finally Pluto reminding us that life is not a destination but a process.
Venus travels very close to the Sun during much of August adding a touch of magic. Venus and the Sun will make their exact conjunction on the afternoon of the 14th of August, at the Venus Star Point.
Meanwhile Jupiter has been retrograde since mid April, encouraging us to search for deeper truths. On August 11 Jupiter will station direct, remaining at 15 degrees Sagittarius until the 29th of August encouraging us to be in tune with planetary and social rythmns and reminding us of the need to ensure our relative safety through forward planning in a challenging world. After a period of spiritual and philosophical introspection Jupiter's forward movement may bring good fortune providing we have put in the effort. Meanwhile Uranus stations to turn retrograde on the 12th of August.
The Aquarian Full Moon occurs at 10:29 pm on Thursday the 15th of August at 23 degrees of Aquarius as A Bear Sitting Down and Waving All its Paws. This speaks to the self discipline which results from an intelligent development of individual facilties under proper training. We are reminded that we can learn to discipline our natural impulses and to use them for more than personal purpose. With the Moon joining up with the asteroid Achilles at this Full Moon, there's an added message about courage in adversity. Venus and the Sun are united at this Full Moon and being challenged by Pluto, to add a sense of depth and intensity to this Full Moon.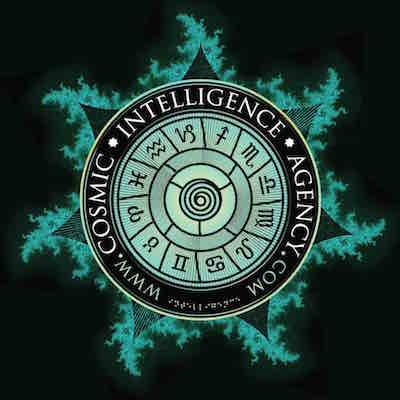 Gillian Dwyer is a Melbourne astrologer Agent 25 of the C*I*A and frequent participant at Kundalini House