We are Stardust and We are Golden: The Longest Total Lunar Eclipse of the 21st Century
The Sun moves into Leo on Monday the 23rd of July putting a focus on fun and creative self expression. The Sun's annual return to its own sign brings a sense of drama and generosity and a warm radiant vitality, so welcome in the context of a Melbourne winter. Many of us will be still experiencing the deep emotional sensitivity associated with the recent partial solar eclipse. Perhaps it gave us an opportunity to review and dissolve old belief systems that no longer serve us. On a global level the vulnerability of children has been a strong focus, both through the family splitting misadventures of Donald Trump and the more positive story from the caves of Thailand. With Jupiter in Scorpio still shining light in dark places, this global lens on the hero's journey and redemption, brought to us from the caves of Thailand highlighted so many relevant themes and threads.
The next full Moon, at five degrees of Aquarius and occurring at 6:20 am on Saturday the 28th of July, will be totally eclipsed for 93 minutes, between 5:30am and 7:13 am. This blood Moon, the longest total lunar eclipse this century, will set at 7:29am, just five minutes after sunrise. Holding a magnetic resonance over a longer period, this is may possibly be the most powerful eclipse of the century.
By definition eclipses occur close to the nodes of the Moon. This one at the South Node in Aquarius gives us further opportunities to release patterns or beliefs that have held us back or restricted us in the past and to strive for freedom in our life.
Mars now well into its journey backwards features prominently in the eclipse, joining up with the Moon and tightly opposing the Sun. It will be shining spectacularly beside the Moon at this eclipse, weather permitting. The disruptive dance between Mars and Uranus will also feature, bringing a focus to our willpower, desire and assertion. It is joined by an opposition with the largesse of truth seeking Jupiter. This is not a time to get caught up in fear or perfectionism, but to trust in oneself and celebrate the strength of the life-force. With retrograde Mars in Aquarius take advantage of the objectivity and space on offer and chill out.
Adding to the potent and reflective atmospherics of this sunrise eclipse, Mercury will have just turned retrograde on the 27th of July. It joins Mars, Pluto, Neptune, Saturn, and Chiron on this inward journey. Secrets may be revealed at or around this eclipse, and realisations about inequities between rich and poor, women and men and black and white people may feature, in addition to earth changes. You may experience changes in your friendship and social network patterns, reflecting changes in your values.
Colour your world, break through, break free and have some fun! The Age of Aquarius draws closer, reminding us that we all part of one global community.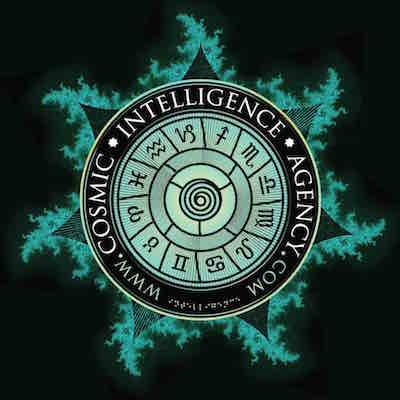 Gillian Dwyer is a Melbourne astrologer Agent 25 of the C*I*A and frequent participant at Kundalini House.