Surrendering to Illumination from above at the Scorpio Full Super Moon
Venus moves into Taurus on the 15th of April encouraging an appreciation of sensuality and an increased focus on material comfort. Four days later, on the 19th of April, the Sun and Mercury come together briefly in the potent final degree of Aries prompting intense dynamism and the need for action. This occurs just before Mercury moves into Taurus, where it is joined on the morning of the 20th of April by the Sun. This new focus on Taurus makes it all real and brings things down to earth, focusing our attention on our survival and the value of things. Everything is a bit more tangible in the context of all this Taurus energy. But while Taurus is a slower, steadier, and more predictable influence than Aries, Uranus in Taurus keeps things exciting right through until the end of the month.
Forewarned is forearmed on the 23rd of April when Venus briefly joins forces with Uranus bringing sudden new beginnings or a degree of volatility to relationships. However the very next day Venus is replaced by Mercury in close proximity to Uranus charging the atmosphere with brillaint new ideas or surprising, perhaps shocking, news. This could be an interesting weekend where an impulse or a conversation could lead to something more tangible.
Mars slows down the pace in its move from Gemini into Cancer on the 24th of April and vulnerability and emotional protection could come into focus. There is a need to feel connected to one's roots and traditions in order to clarify desire and to understand one's directions in life. Here desires are pursued tenaciously and intuitively with an instinct for self-preservation and a sense of timing in pursuit of goals.
Scorpio Full Moons are times of intense, at times obsessive, emotional energy so try to control and channel it productively. While the Full Super Moon at 1:32 pm on the 27th of April is particularly intense, the opportunity for transformation and finding the calm within the storm is suggested by the Sabian Symbol for the degree at which this Full Moon is positioned. The Moon is at eight degrees of Scorpio characterised as: A Calm Lake Bathed in Sunlight. This reminds us that beyond all effort lies the need for peace and the readiness to accept the illumination from above. It speaks to a quiet openess to higher inspiration. While humans strive hard to achieve great things through daring adventures, a moment comes when all that really matters is to present a calm mind upon which a supernal light may be reflected.
Saturn squaring both the Sun and Moon reinforces a need to take responsibility and deal with anything that you have been avoiding in the lead up to this Full Moon. With the Sun closely aligned with Uranus the Saturn-Uranus square that pervades 2021, while not exact again until June is nevertheless highlighted at this Full Moon. Use the energy of liberation to let go of obligations that are holding you back. Reinforcing the sheer intensity of this Scorpio Full Moon, ruling planet Pluto stations retrograde on the very next day and will not go direct again until the 6th of October, prompting a focus on and a subsequent purging of our own personal shadow side, particularly as it relates to the use of power and authority.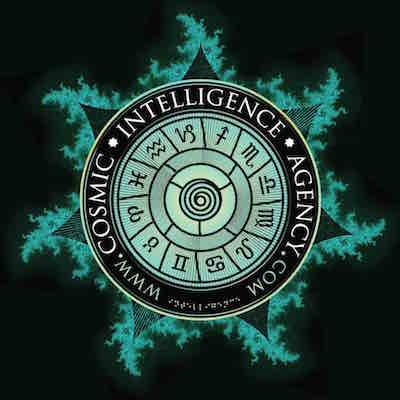 Gillian Dwyer is a Melbourne astrologer Agent 25 of the C*I*A and frequent participant at Kundalini House